Seeking Alpha is a market leader for news and market-moving analysis. The stock service boasts a community with millions of members—making it the world's largest investing community and arguably one of the best stock research website options available.
The platform relies on a diversity of opinion crowdsourced from thousands of passionate contributors, active discussion forums and thoughtful investor commentary.
The service is written for investors by investors and uses advanced charting, data visualizations, technical and fundamental analysis to enable informed data-driven decision-making.
Learn more about Seeking Alpha's Free, Premium and Pro plans in this Seeking Alpha review.
What is Seeking Alpha?
---
Available: Sign up here
Price: $119/yr billed annually for Premium (or $249 for two years); $499/yr billed annually for Pro (or $69.99/mo monthly); contains in-app purchases
Seeking Alpha Premium caters to the needs of intermediate and advanced investors looking for an affordable, all-inclusive, one-stop-shop for their investing needs.
Seeking Alpha Premium acts as an all-in-one investing research and recommendation service that offers insightful analysis of financial and business news, stocks, and more—all designed to help you make better investing decisions.
Whether you're looking to invest on the go or dedicate time for more in-depth research and analysis, Seeking Alpha provides features that meet your needs.
Seeking Alpha provides unlimited access to everything from:
Earnings call transcripts
Seeking Alpha Author Ratings and Author Performance metrics
10 years worth of financial statements
Ability to compare stocks side-by-side with peers
Access to dividend and earnings forecasts and much, much more.
What Does Seeking Alpha Cost?
---
A subscription to Seeking Alpha Premium costs $119 for your first year and $239/year thereafter. You can purchase a two-year plan for a discounted $349.
If you find Seeking Alpha Premium valuable, you can choose an annual plan. The annual plan plan may include sales tax/VAT, where applicable.
Seeking Alpha Pro carries a higher price because it comes with more services and no advertisements of any kind.
You can pay $69.99 month to month, plus tax/VAT, where applicable. Alternatively, it costs $41.58 per month if you pay $499 upfront.
You can pay for either service with a credit card or PayPal.
What Comes with the Seeking Alpha Free Service?
---
Seeking Alpha offers a Basic plan, which provides:
What to Expect from Seeking Alpha's Paid Plans
---
Seeking Alpha has over 16,000 active investors and contributors sharing well-written stock analyses. In-house editors vet these data-driven pieces rooted in market data and alternative data before being read and discussed by millions of people.
Reading different opinions about the same stock helps investors develop their own informed opinions on the likelihood a stock will rise or fall. I recommend this approach when learning how to research stocks.
In addition to diverse, deep-dive research articles, Seeking Alpha's website has fundamental analysis tools, a Trending News feed, crowdsourced debates, and stock market data. They've even got alternative data available to improve the performance of your investments.
Users can create their portfolios to track their favorite investments, see how choices perform and receive email alerts or push notifications. You also have access to podcasts and video content.
While the website has a significant amount of information, some features remain reserved for the Premium Plan and Pro Plan members.
What Comes with the Seeking Alpha Premium Service?
---
With a Seeking Alpha Premium subscription, you will enjoy unparalleled access to an ad-lite interface across your user experience.
Seeking Alpha Premium can help you manage your portfolio with a large investing community so you can better understand the stock market and manage your financial life.
Access more premium content, author ratings and performance to get ideas for your next investment.
Premium plan members can see the ratings of authors whose articles they read. It's helpful to know if you're reading a piece written by someone with top marks or a poor track record.
"Expert" analyses are reserved for Premium members as well. This plan includes a stock screener letting you filter by average analyst rating and gain access to listen to conference calls and other presentations. Premium costs $119 for the first year of $249 for the first two years when subscribed under an annual discount.
Related: Best Stock Advisor Websites & Services to Seize Alpha
Seeking Alpha Premium Features in Detail
Find Investment Ideas
---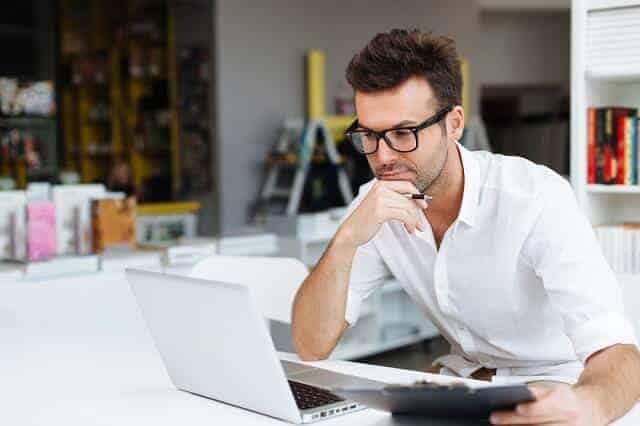 For actionable stock ideas from fund managers and other Wall Street financial pros, you can subscribe to Seeking Alpha's "Notable Calls."
As a Seeking Alpha subscriber, you receive daily information about new investing ideas from Wall Street, sourced and summarized by Seeking Alpha's news analysts.
If you read both Notable Calls and Seeking Alpha contributor articles, you'll have no shortage of investment ideas.
Seeking Alpha Author Ratings
---
The platform is filled with Alpha Authors content to share their expert investing advice. Most articles focus on the public markets, but they also write about many alternative investment resources.
Whichever type of investment research you conduct, you can easily find a few articles or more and likely some in-depth analysis.
When you see a Seeking Alpha author you like, you can click the 'Coverage" tab on their page. Based on their research, you can see which stocks the author rates as (very) bearish, (very) bullish, or neutral. From there, you can see which stocks the author rates highest.
Wall Street Consensus and Price Targets
---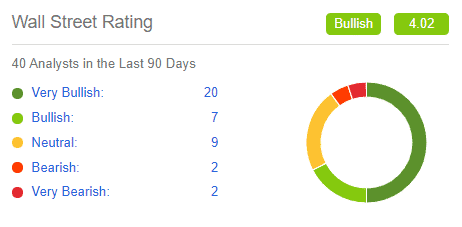 Seeking Alpha shows members Wall Street Analyst ratings. Typically, these include sell-side analysts following specific companies, usually within the same industry and providing clients' reports.
The reports aim for an unbiased assessment and include financial information and recommendations based on the stock's expected performance.
With Seeking Alpha, you can see how many Wall Street Analysts have rated a stock and whether they feel (very) bullish, neutral, or (very) bearish.
Subscribers can also see a consensus price target, consisting of various analysts' price targets. If a price target is higher or lower than the current stock price, you can see if analysts expect the stock price to rise or fall.
Seeking Alpha's Wall Street Consensus and Price Targets information essentially show what analysts believe to be the fair value of the stock.
A price target alone shouldn't decide an investor's buying or selling decisions, but it can serve as a helpful guide when considered with other information.
Seeking Alpha Quant Ratings & Rankings
---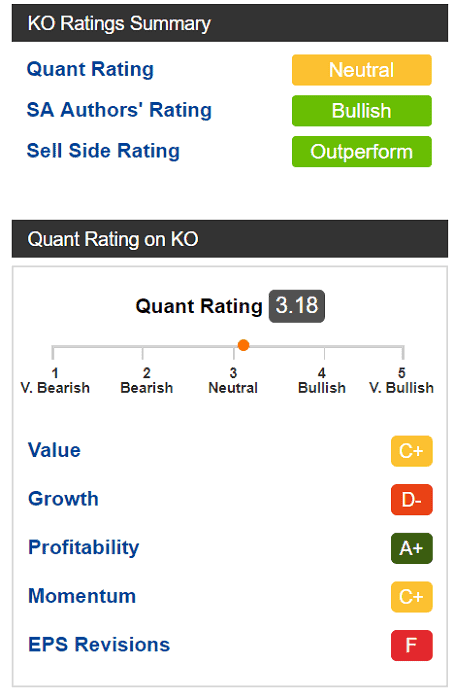 Seeking Alpha's quant recommendations use backtesting, meaning they use historical data to see how well a trading strategy would have performed.
Additionally, Seeking Alpha's quant ratings come from measuring a stock's financial metrics (momentum, value, etc.) against other stocks in the same sector.
The metrics have assigned factor grades and get weighted to maximize their predictive value. The stocks that receive the best ratings receive Very Bullish recommendation labels, and looking at Very Bullish recommendations can serve as a great place to start getting some investing ideas.
Steve Cress, who has over 30 years of experience in equity research, quantitative strategies, and risk management, manages Seeking Alpha's Quant Ratings and Factor Grades.
Seeking Alpha's quant performance has massively outperformed the S&P 500's returns over the last decade. It beat the market 9 out of ten years.
If in 2010, you invested $10,000 in the S&P 500 Total Return Index, by 2021, you would have gained $43,783.
Comparatively, according to the Seeking Alpha website, had you invested that $10,000 in Seeking Alpha's Very Bullish Recommendations instead, you would have had a return of $183,127.
You can also see a stock's Quant Ranking to see how it compares to other stocks in its industry and sector.
For example, you might see that a stock is in the Information Technology sector, and the industry is Technology Hardware. It might then show it as ranked 1 out of 28 in its industry and 1 out of 519 in its sector.
Related: How to Get Rich Off Stocks [Steps to Invest in the Stock Market]
Seeking Alpha Top-Rated Stocks
---
Seeking Alpha provides several types of top-rated stock lists, such as:
Top Rated Stocks
Top Yield Monsters
Top-Rated Dividend Stocks
Top Tech Stocks
Top Growth Stocks
Top value Stocks
Top Small-Cap Stocks
By viewing these lists, you'll find it hard to run out of stock ideas.
Related: How to Know What Stocks to Buy: Investing for the Long-Term
Dividend Grades
---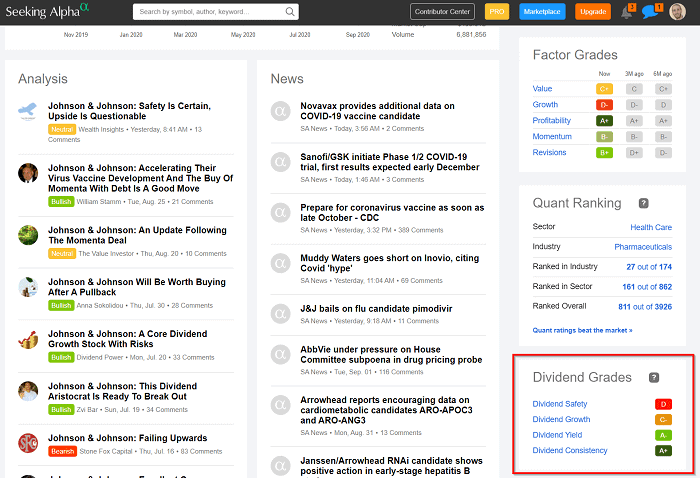 Seeking Alpha gives dividends four different grades, including:
Dividend Safety Grade
Dividend Growth Grade
Dividend Yield Grade
Dividend Consistency Grade
The Dividend Safety Grade includes 13 underlying financial metrics and compares them (weighted) to other stocks to figure out how safe a stock's dividend is so you know if you can rely on it.
The Dividend Growth Grade considers a company's past dividend growth as well as the company's projected growth in revenue, free cash flow, and profits. This grade lets you know how much growth potential a company's dividend has.
The Dividend Yield Grade compares a stock's dividend yield to other companies in the same sector, which is more accurate than comparing it to all other stocks. It factors in analysts' projections of future dividend yields as well.
The Dividend Consistency Grade tells you how consistently the company has paid a dividend and raised it.
Related: Best Passive Income Ideas [Income Investments to Consider]
Broker Account Linking to Trade Portfolio Holdings
---

Seeking Alpha users with both the Premium service and Pro service can link their brokerage accounts to their Seeking Alpha portfolio.
By linking accounts and portfolios, Seeking Alpha subscribers can gain valuable insights into their holdings and view all holdings across several brokerages all in one place.
You can easily track the total account value for all your portfolios combined, and the stock ratings and factor grades on your holdings receive daily updates.
Seeking Alpha has a partnership with Plaid, the top personal financial data aggregator recently acquired by Visa, to ensure all of your information is encrypted and completely secure.
Article Sidebar
---
The article sidebar allows you to see a brief synopsis of a stock at a glance. You can quickly see if others are bullish or bearish, ratings (and ratings of the authors making the ratings), and real-time prices.
This feature provides you with stock ideas, including what you may want to follow or examine further. The more research you do on potential stocks, the better your chances of making money in stocks.
Seeking Alpha Stock Screening Tools
---
The Seeking Alpha ratings stock screen acts as a fast way to find the stocks and REITs with the best ratings and factor grades.
It uses information from Seeking Alpha's quant ratings and factor grades and ratings from Wall Street and Seeking Alpha authors.
You can filter for the factors that are most important to you. For instance, you might screen for stocks with an A+ Growth Grade and minimum dividend yield.
Factor Scorecard
---
Every stock and REIT on Seeking Alpha receives a factor scorecard that lets you evaluate it quickly. The score has five factors, including:
Value
Growth
Profitability
Momentum
EPS Revisions
Each factor has a grade ranging from an F to an A+. You can click the links on the scorecard to see the underlying data that lead to each rating.
For REITs they use REIT-appropriate data, such as AFFO and FFO.
Stock Comparison Tool
---
You can pick up to six stocks or funds to compare side by side at a time. You can all at once compare the market cap, enterprise value, number of employees, ratings (quant, Seeking Alpha authors, Wall Street analysts), quant factor grades, and more.
You can customize the data to show expense ratios, performance, liquidity, and more for ETFs. You can even download the comparisons as a PDF or spreadsheet to review later or share with friends.
It's simple to change out stocks or ETFs in your comparison until you're looking at the top contenders for your portfolio.
Earnings Forecasts
---
All Seeking Alpha members can see stock dividend payment schedules and company earnings. Premium members can also see earnings estimates and surprises.
Personalized Alerts
---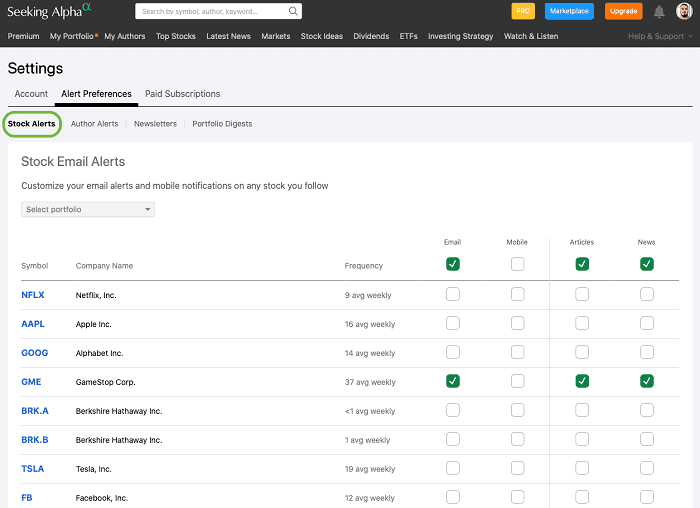 After you've chosen stocks you're interested in keeping track of as a subscriber, you can choose to receive personalized email alerts telling of any critical news or analysts' ratings changes.
Basic members can view this information on the website, but Premium members get the complete data directly in their emails.
Users who have linked their brokerage account(s) can also receive real-time alerts on their most current holdings so they always know any important news that could affect their portfolios.
News Dashboard
---
The News Dashboard, which you can access on your computer, provides real-time, ad-free news tracking. You can filter out any news that isn't relevant to you.
For instance, you can filter to see only news about dividend stocks and REITs, just trending news or buybacks-related news.
By keeping up-to-date on market news relevant to you, it's easy to discover new investing opportunities.
What Comes with the Seeking Alpha Pro Service?
---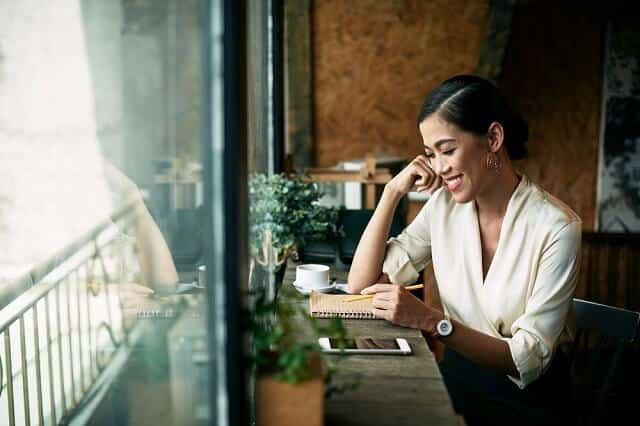 A Seeking Alpha Pro subscription comes with all the features of Seeking Alpha Premium, but also comes with extra features like:
The Top Ideas recommendation list
Exclusive newsletter subscriptions and interviews
VIP Editorial Concierge
Seeking Alpha Pro screener for investing ideas
No ads—providing you with fewer interruptions to your reading experience.
The Pro Plan targets professional investors and costs $499/year if paid upfront. Below, we cover all these features in greater detail.
Seeking Alpha Pro Features
Top Ideas Recommendation List
---
Pro members receive exclusive, real-time alerts and top investing ideas. The Top Ideas are hand-picked by Seeking Alpha's in-house experts and have the best long and short ideas from Seeking Alpha contributors.
This list is sent out weekly.
Exclusive Newsletter Subscriptions and Interviews
---
Every market day, subscribers receive Pro Summaries in their inboxes. This message summarizes the top 1% of Seeking Alpha content. Pro Members also receive other exclusive content.
For instance, Pro subscribers received an instant alert when activist hedge fund Kerrisdale Capital Management published its thesis about iRhythm Technologies on Seeking Alpha. This content was exclusive to Pro members for the first week.
VIP Editorial Concierge
---
Members receive a personal VIP Editorial Concierge. The Pro editors will work directly with Pro subscribers to find ideas that align with their investing interests and style.
Seeking Alpha Pro Screener
---
The Seeking Alpha Pro screener allows you to filter down to only investments you are likely interested in, saving you time and effort. For example, you might filter by market capitalization, investment style, country, long/short, and more.
No Advertisements
---
As a Pro member, your experience comes 100% ad-free. The basic version has ads, while Premium comes "ad-lite."
Why Should You Subscribe to the Seeking Alpha Premium Service?
---
In short, Seeking Alpha distills down the relevant financial information for you, so you don't have to—making it easy for anyone interested in self-directed investments to have a chance at outperforming the market. Now's your chance with Seeking Alpha's Paid Plans!
Consider starting a subscription to take advantage of SA's Premium services and see if they make sense for your needs.
Is Seeking Alpha Premium Worth It?
---
Seeking Alpha Premium provides several valuable features to inform your investment theses and stay updated on your portfolio.
The service unlocks one million investing ideas and valuable features such as Author, Quant and Dividends Ratings, all of which can deliver compelling investment rationales for your consideration.
How Have Seeking Alpha's Stock Picks Performed?
---
Seeking Alpha's Premium subscription provides access to the service's Stock Quant Ratings. According to three independent investment resources provided on Seeking Alpha's website, these represent collections of the best (to the worst)-rated stocks.
These cross-checks and validations come from: (1) the Seeking Alpha Quant Model, (2) Seeking Alpha independent contributors, and (3) Wall Street analysts. The list of best stock recommendations gets further vetted by quantitative and fundamental analysis.
For example, the service offers its Triple Rated Top Stocks collection, which contains a listing of the top-rated securities—all of which get validated by "Very Bullish" or "Bullish" ratings held on the platform.
All this attention to detail pays off, too.
Have a look at the dramatic market outperformance seen by these Top Rated Stocks from Seeking Alpha Premium as compared to the S&P 500 (total return with dividends reinvested):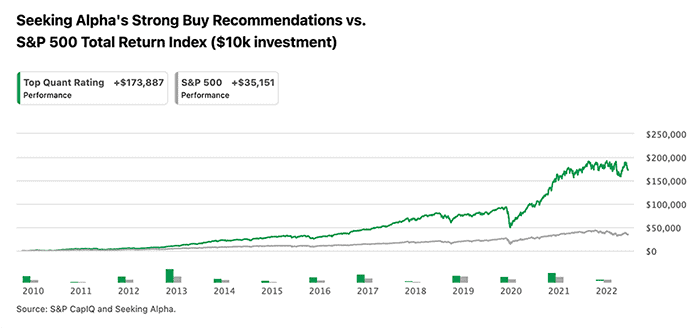 How Much Can You Make on Seeking Alpha?
---
Seeking Alpha incentivizes quality author contributions with compensation based on traffic, quality, and content topics. Only premium articles that are exclusive to Seeking Alpha are eligible.
Articles selected as a Pro Topic Idea receive guaranteed minimum payments of $500. Additionally, there are other bonuses for single-ticker articles that editors and readers single out.
Who is Behind Seeking Alpha?
---
David Jackson is Seeking Alpha's founder and CEO. He holds a B.A. from Oxford University and an MSc from The London School of Economics.
His financial career began as a macro-economist at HM Treasury in London and the Bank of Israel. He worked as a technology research analyst at Morgan Stanley before leaving to manage money and explore new approaches to financial publishing.
Jackson created Seeking Alpha in 2004.
Who Should Avoid Buying a Seeking Alpha Premium Subscription?
---
Seeking Alpha is for investors who want to pick stocks. If you prefer a passive investing strategy, such as using a robo-advisor, or you don't want to choose your stocks actively, the platform isn't a good fit for you.
It also isn't a service for people who invest solely in mutual funds or target-date funds. Seeking Alpha won't benefit you if you have no interest in individual stocks, ETFs or REITs.
Seeking Alpha's Competitors
---
Several companies offer competing services to Seeking Alpha, with some specializing in different areas.
For stock picking, The Motley Fool offers several services to select stocks to hold in your portfolio:
For standalone research and data services, you have a Seeking Alpha competitor like Stock Rover.
You have TradingView, the social platform for traders and investors to improve investing skills and profits for charting and technical analysis.
You have several competitors to consider for Seeking Alpha.
Seeking Alpha Review Summary
---
There are three Seeking Alpha plans: Basic, Premium, and Pro.
The basic version is free and provides access to helpful stock analysis information, including Wall Street Ratings, news updates, and more.
However, the basic version provides less customization than the paid plans, limits how much in-depth news and analysis you can view, and has ads.
Further, most of the content to help you form opinions about investment opportunities rests behind a paywall you can only access through a Premium or Pro Subscription.
As such, bumping up to the Premium plan provides many beneficial features that investors find valuable.
For the most serious investors, the Pro service provides exclusive content and lets investors see some information sooner than other investors.
It also has a concierge service that lets you work directly with editors to find the best stocks that match your portfolio investment strategy.
Pros to Seeking Alpha Paid Plans:
Unlimited articles with investing ideas
Little (Premium plan) to no (Pro plan) ads
Valuable quant, Wall Street Analyst, and author ratings
Ability to track personal portfolio performance
Screening & Comparison tools that let you filter out irrelevant investments
Concierge service (Pro only) and personalized alerts
Cons to Seeking Alpha Paid Plans:
High cost for casual investors (especially if getting the Pro plan)
Minimal mutual fund coverage
Won't invest for you like robo-advisors
Stock Research, Analysis + Recommendation Website

Seeking Alpha Premium & Pro

4.8
Premium: $99/yr.* or $349 for two years. Pro: $499/yr. or $69.99/mo.*
Seeking Alpha has the world's largest investing community.
Seeking Alpha Premium helps you find profitable investing ideas, improve your portfolio, research stocks better and faster as well as track the news to find investing opportunities.
Receive up to 15 investing newsletters filled with stock research and analysis, commentary and recommendations.
Use Seeking Alpha Premium's Seeking Alpha Stock Ratings to find stocks likely to outperform and make you money.
Seeking Alpha Premium's proprietary quant records have an impressive track record leading to massive market outperformance.
Offers Free 7-Day Trial.
Pros:
Active community of engaged investors and analysts

Stock screeners, quantitative tools for stock analysis

Strong track record of market outperformance on stock ratings
Cons:
Minimal mutual fund coverage
* Promotional rate for first year. Seeking Alpha Premium regularly $239/yr. Seeking Alpha Pro regularly $499/yr. if billed annually, $839.88/yr. if billed monthly.
Related: