Robo-advisors offer a low-cost way to diversify your portfolio, rebalance it regularly and keep on track toward financial goals.
Previously, accessing the stock market with tailored investment advice often came to you if you were prepared to shell out money for a professional or had the time and know-how to do it yourself.
Further, you couldn't start investing with little money like you can with most robo-advisors—you needed a decent sum to justify the management fee or maintain a minimum account balance.
Thanks to FinTech advancements, this is no more. These automated investing services act as a free or low-cost investment advisor in your pocket.
Even more, most of these services allow you the same ease of access as standard online brokers but add doses of automatic rebalancing of your portfolio and valuable financial planning help.
We cover the best robo-advisors for your needs below. Our ratings considered available portfolio customization, costs, account minimums, access to other services like a cash account or banking products, educational resources, sign-up bonuses, customer support, unique features and included tools.
All of the robo-advisor options found on this list offer diversification, automatic rebalancing at a regular cadence and assist in planning your investment goals.
You can rest assured that these robo-advisors will help you build wealth for free or a reasonable management fee compared to a traditional human advisor.
App
Best For
Fees
Promotions

M1 Finance
☆ 4.3 / 5
Fee-free active trading and automated investing
Commission-free trades
$30 sign up bonus with $1,000 deposit; 1 year free M1 Plus

SoFi Invest: iOS, Android and Desktop
☆ 4.6 / 5
Investors looking for automated investing already using SoFi's other personal finance products
Commission-free trades
Free stock worth between $5 – $1,000

Betterment
☆ 4.8 / 5
Investors looking to build a globally-diversified portfolio
0.25% AUM
None

Marcus Invest
☆ 4.5 / 5
Robo-advisor with Smart Beta functionality
0.35% AUM
None

Acorns
☆ 4.8 / 5
Investors in college looking for a complete personal finance solution; Roth IRAs
$3/month – $5/month
$10 sign up bonus when making first deposit at account opening

Stash
☆ 4.6 / 5
Everyday people looking to start managing their finances
$1/month – $9/month
$5 stock bonus for making a deposit of $5 or more

Wealthsimple
☆ 4.2 / 5
People wanting a robo-advisor with human financial planner services
0.50% AUM
None

Vanguard
☆ 4.2 / 5
Basic ETF investing
0.20% AUM
None

Charles Schwab
☆ 4.8 / 5
Free robo-advisor
Free
None
Best Robo-Advisors
1. M1 Finance: Best Robo-Advisor for a Personalized Investment Portfolio
---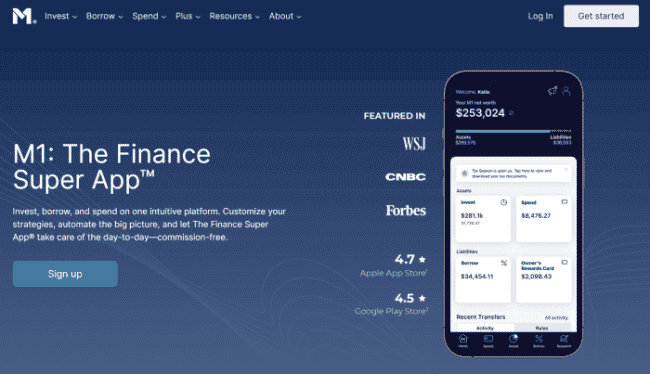 Available via desktop, Apple iOS and Google Android.
Price: No stock or ETF commissions, nor AUM fees.
Account Minimum: $0 (taxable accounts); $500 minimum deposit for IRAs
M1 Finance offers commission-free stock and ETF trades and provides automated stock trading according to your predetermined investment decisions as this site's top robo-advisor pick.
What we like most about this app is your ability to make recurring deposits that automatically get invested into your portfolio.
M1 Finance acts as a singular personal finance app to assist with building wealth through automating your investments into diversified portfolios, having a bank account and linked debit card that provides market-beating interest rates and having access to valuable personal finance literature.
Most importantly, investing with M1 Finance can be as simple as depositing money, setting your stock and index fund selections and having the platform automate your investments on your behalf.
I've said it before, but this truly automates your investments if you set up recurring deposits, allowing your wealth to build.
From there, M1 Finance automatically rebalances your portfolio in line with your stated asset allocation targets. Doing this at regular intervals has been shown to improve overall portfolio performance.
It moves outperforming funds into underperforming ones, capturing a value effect over time as returns revert to the mean.
Consider opening an investment account with M1 Finance. The app has no account minimum unless you choose to open an IRA, for which you'll need to deposit at least $500.
You can even open up a custodial Roth IRA for your children if they have earned income through purchasing a subscription to M1 Plus.
Read more in our M1 Finance review.
Our Self-Directed Robo-Advisor Pick

M1 Finance | Smart Money Management

4.3
Basic: Free. M1 Plus: $125/yr.
M1 Finance's Smart Money Management gives you choice and control of how you want to invest automatically, borrow, and spend your money—with available high-yield checking and low borrowing rates.

Basic account includes an FDIC-insured checking account and an M1 Visa debit card.

Upgrade to M1 Plus and unlock perks including 1% cash back, 4.50% APY, ATM reimbursements, and 0% international fees.
Invest in stocks, ETFs, and cryptocurrencies.
Special Promotion: Open an account and get 3 months free of M1 Plus* ($31.25 value).
Pros:
Robo-advisor with self-directed investing capability

Attractive cash-back and APY opportunities with M1 Plus subscription
Cons:
Doesn't support mutual funds

Doesn't allow trading throughout the trading day (1 trading window for Basic, 2 for M1 Plus)

High cost for M1 Plus service tier
M1 Plus is a $125 annual subscription offering products and services from M1 Spend LLC and M1 Finance LLC, both wholly-owned, separate but affiliated subsidiaries of M1 Holdings Inc.

*Your free trial (a $31.25 value) begins the date you enroll in the M1 Plus subscription, and ends 90 days after ("Free Trial"). Upon expiry of the Free Trial, your account is automatically billed an annual subscription fee of $125 unless you cancel under your Membership details in the M1 Platform.
2. SoFi Invest: Best for Automated and Self-Directed Investing
---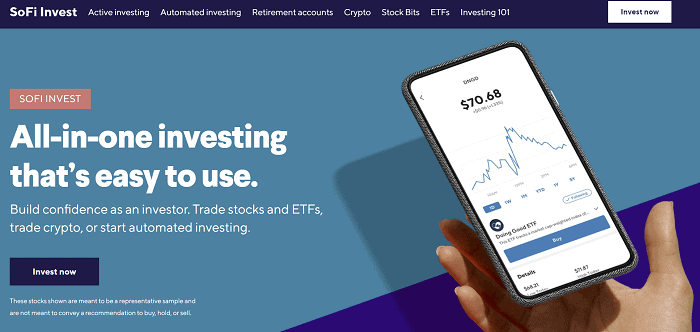 Available via desktop, Apple iOS and Android App on Google Play.
Price: No stock or ETF commissions, nor AUM fees.
Account Minimum: $0
SoFi Invest is a stock market app that allows you to use automated investing services or make self-directed investment choices with stock, ETF and cryptocurrency trades.
The well-known brand in the personal finance space recently entered into the investing world by offering free trades on stocks, ETFs, cryptos and more. SoFi doesn't offer options trading or mutual funds.
The service provides you the ability to trade under your investment strategy. Meaning, you can invest actively or stand back and let its automated investing tools takeover as a robo-advisor.
Therefore, this brokerage account might make an excellent place to hold your investment accounts because you'll have options for investing money.
The company wants to serve all customers interested in improving their financial situation alongside participating in their other personal finance products like refinanced student loans, money management, credit cards and more.
If you'd like to start investing through SoFi's brokerage services, they offer an added incentive for using a robo-advisor through their platform: free stocks to get you started.
Learn more about their taxable accounts (retirement accounts, too!) to get you started down the automated investing path and build your diversified portfolio.

SoFi Invest | Free Active + Automated Investing

4.4
SoFi Invest allows you to trade or invest in stocks, ETFs, and options with no commissions and no account minimums. You can also invest in cryptocurrency and participate in some initial public offerings (IPOs).

Invest for as little as $1 with fractional shares.

Free robo-advisory services, including goal planning and auto-rebalancing.

Special offer 1:

Fund a new account with at least $10 within 30 days of opening an account, and receive $5, $10, $25, $100, or $1,000 worth of stock. (Prize level awarded at random.)

Special offer 2:

You can receive up to $100 in Bitcoin when you make you first cryptocurrency trade with SoFi.*
Pros:
Good selection of available investments

No options contract fees

DIY and automated investing options

Fractional shares
Cons:
Doesn't support mutual funds

Limited trading tools

Higher-than-average cryptocurrency trading fees

No tax-loss harvesting

No socially responsible robo-advisor functionality
* Users will receive a $10 bonus for a first trade of $50-$99.99, $15 for $100-$499.99, $50 for $500-$4,999.99, and $100 for $5,000-plus.
Related: 10 Best Stock Tracking Apps [Investment Portfolio Management]
3. Betterment: Best for Tax-Loss Harvesting
---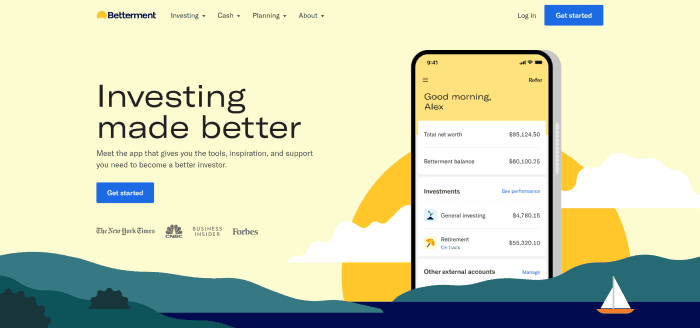 Available via desktop, Apple iOS and Google Android.
Account Minimum: $0.
Price: 0.25% Management Fee (AUM)
You can use the Betterment robo-advisor platform to buy fractional shares of ETF index funds like the S&P 500 in taxable accounts as well as individual retirement plans.
The service does not allow you to invest in individual stocks but will automatically place deposits into fractional bits of index fund ETFs aligned with your portfolio objectives.
The service charges an all-encompassing 0.25% assets under management fee but can justify this expense in taxable brokerage accounts through its tax-loss harvesting feature.
This is one of their products that justifies the 0.25% AUM fee for holdings in a taxable account. It works by selling losses to lock in short-term capital losses and lowers your taxable income while taking your proceeds and placing them into a similar investment.
This lowers your taxable income or other capital gains and quickly covers the 0.25% annual AUM fee.
Further, based on your intended financial goal, the company provides investment advice by tailoring your portfolios to accomplish these goals.
Betterment led the way for robo-advisor services, growing from a small business to what now represents a significant book of business.
Using them has become a popular choice for people looking to invest toward specific goals without the need for any investing experience for a reasonable fee.
Robo-Advisor

Betterment | Investing Made Better

3.7
$4/mo., or 0.25% annual fee*.
The Betterment app gives you the tools, inspiration, and support you need to become a better investor.
Start with as little as $10 and use the top-rated mobile app to set up automatic investing into diversified ETF portfolios.
You can also invest in diversified preset cryptocurrency portfolios.
Customize your risk tolerance and investment goals with guidance available at any time.
More than 770,000 customers use Betterment to invest.
Pros:
Hands-off investment management

Diversified portfolio that automatically rebalances

Low-cost investment selection
Cons:
High account fees

Limited investment selections
* 0.25% annual fee triggered if you set up recurring monthly deposits totaling $250 or more, or reach a balance of at least $20,000 across all Betterment accounts
4. Marcus Invest: Best Robo-Advisor for Smart Beta Investing
---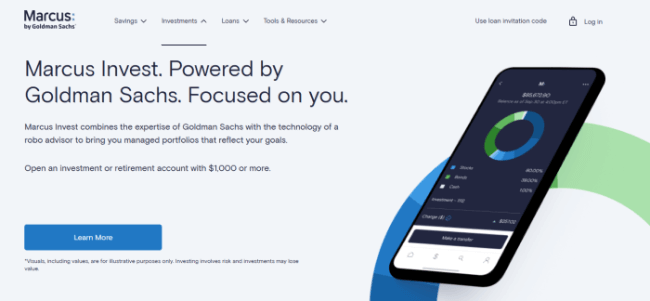 Available via desktop, Apple iOS and Android App on Google Play.
Price: 0.35% AUM (assets under management)
Account Minimum: $1,000
Marcus Invest is a robo-advisor provided by the world-revered investment bank Goldman Sachs.
The service offers standard robo-advising capabilities through providing index fund investment recommendations and offers other features that might attract investors compared to its competitors.
Marcus Invest understands that not all investors have the same priorities and thus offers you the ability to customize your portfolio by selecting from three investment themes, each designed to reflect your priorities, goals and timelines.
Marcus Invest Portfolio Themes:
Goldman Sachs Core: An essential portfolio of ETFs designed to keep up with market ups and downs over long periods.
Goldman Sachs Impact: These portfolios specialize in holding a diversified set of securities to support sustainable business practices while avoiding environmental or social harm.
Goldman Sachs Smart Beta: This portfolio blends passive and active investing with the potential for more volatility (and gains) over the long term.
Marcus Invest's Smart Beta portfolio sets it apart from other robo-advisor options on the market.
It works by evaluating investable assets with a proprietary screening methodology to score companies on fundamental and technical performance factors.
This eschews the traditional market-weighted approach many ETFs use and chooses to invest more in assets geared toward high-performance scores. This option only works in traditional brokerage accounts, not Traditional or Roth IRAs available through Marcus Invest.
Marcus Invest also comes with a high-yield savings account paying a competitive interest rate compared to other options available in the market.
Marcus Invest believes it's time for a new way to invest in stocks and bonds.
Consider the only robo-advisor which brings together the expertise of an investment banking titan with the consumer-focused robo-advising technology, offering you professionally managed portfolios that reflect your goals.
You'll answer a few questions about your risk tolerance and investing timeline; then, the service matches you with one perfect portfolio from a diverse mix of investment options—all vetted by the experts at Goldman Sachs.
Best yet? All these perks come without you having to worry over the day-to-day management of your portfolio—Marcus Invest manages it all for you.
Consider using this service to help meet your investment objectives as a hands-off investor looking for the expertise of a well-established investment bank managing your portfolio.
5. Acorns: Best Robo-Advisor for Beginners
---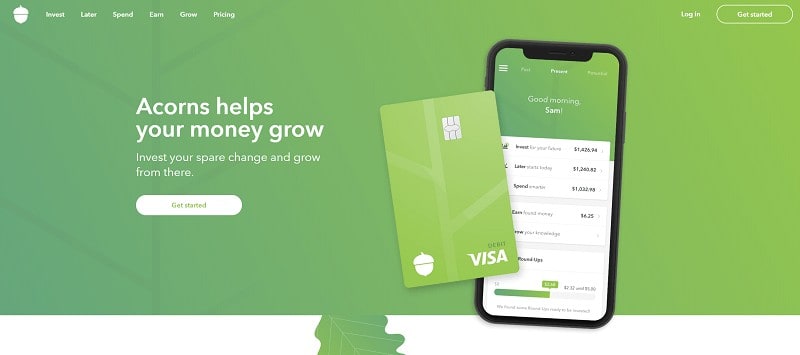 Available via Apple iOS and Google Android.
Price: $3/mo for Acorns Personal & $5/month for Acorns Family.
Account Minimum: $0
Acorns is an investing app for young adults who wish to start with a small amount of money in their investments.
These recurring contributions and rounded-up deposits from your purchases will grow into a more extensive portfolio with more time. Hence the company's name, Acorns: start small like an acorn but grow strong into a mighty oak tree.
Because portfolios start with small balances most often through Acorns, the service has no account minimum.
The robo-advisor micro-investing app charges a monthly fee for users for providing low-cost financial advice through its robo-advisor functionality. Though, it doesn't charge trading commissions when your money gets invested on your behalf.
Instead, it charges an account fee depending on the subscription plan you select for your account.
The service has two offerings, including Acorns Personal for $3/mo and Acorns Family for $5/mo.
These subscriptions provide various products that fit well for young adults' goals, like investing young and managing your money prudently.
The service efficiently acts as one of the best money apps for kids with its all-in-one platform (Acorns Family).
Their plans come as follows:
Acorns Personal ($3/mo):

Acorns Invest: Invests spare change through the famous "Round-Ups" feature, earns bonus investments and provides access to financial literacy articles.
Acorns Later: Offers tax-advantaged investment options like individual retirement accounts (IRAs).
Acorns Spend: This service acts as your bank account, offering free withdrawals at over 55,000 ATMs nationwide and no account fees and the ability to earn up to 10% bonus investments.

Acorns Family ($5/mo):

Everything in Acorns Personal (Acorns Invest, Later and Spend)
Acorns Early: This allows you to take advantage of the best way to invest $1,000 for your child's future and teach you how to invest as a teenager or minor by opening a custodial account.
Learn more in our Acorns review.
Micro-Investing App

Acorns | Invest, Earn, Grow, Spend, Later

3.6
Acorns Personal: $3/mo. Personal Plus: $5/mo.
In under 5 minutes, Acorns allows you to get investment accounts for you and your family, plus retirement, checking, ways to earn more money, and grow your knowledge.
Famous for investing spare change automatically through Round-ups, this all-in-one financial app helps younger generations start investing earlier.
Invest in expert-built portfolios made up of diversified ETFs.
Special offer: Get $10 to start*.
Pros:
Robo-advisor with affordable fees (on larger portfolios)

Fixed fee model

Round-Ups
Cons:
High fixed fees for small balances

No self-directed investing options

Limited investment selections
* Must make a minimum $5 investment to receive bonus.
Related: Best Acorns Alternatives: Micro-Investing Apps to Use
6. Stash: Best for Approaching Investing for the First Time
---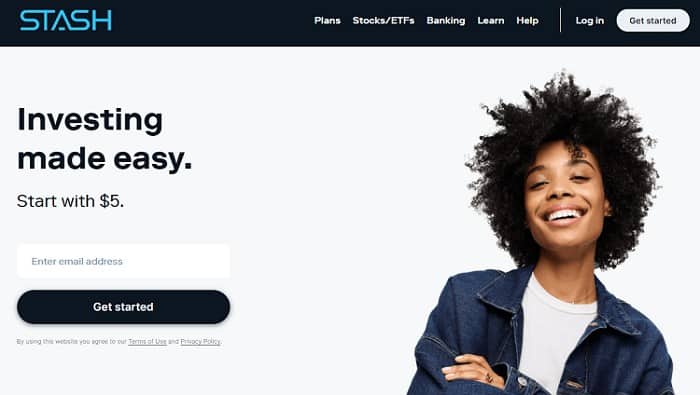 Available via desktop, Apple iOS and Android App on Google Play
Price: $3/mo for Stash Growth, $9/mo for Stash+
Account Minimum: $0
Stash is a mobile-friendly personal finance app that comes paired with investing options and a checking account. Stash acts as a low-cost, all-in-one financial platform and gets included in this list as a result.
While the app primarily caters to hands-off investors looking to automate their investing, you can also actively select stocks to trade. You can do all of this as you spend money and make recurring deposits into your account.
Stash offers custodial accounts for absolute beginners (young investors) or those under the age of 18. Getting started early on your investing journey can build real long-term wealth over time as your returns compound.
Stash comes with a recurring monthly fee but justifies this with a full-service personal finance platform.
Of note, while it does charge a monthly account service fee for its full suite of products, it does not charge trading commissions for your investment holdings, nor does it have an account minimum.

Stash | Investing Made Easy

3.7
Growth: $3/mo. Stash+: $9/mo.
Stash is a personal finance app that simplifies investing, making it easy and affordable for everyday Americans to build wealth and achieve their financial goals.

Invest in stocks, ETFs, and cryptocurrency.

Earn

Stock-B

ack® rewards on every eligible debit card purchase.

Special offer:

If you sign up and make a $5 deposit, Stash will also provide a $5 sign-up bonus.
Pros:
Robo-advisor with self-directed investing capability

Fractional shares

Offers values-based investment options

Get paid up to two days early when you direct deposit pay into your Stash account
Cons:
Charges monthly fee

Smart Portfolios don't offer tax-loss harvesting
7. Wealthsimple: Best for Access to Human Financial Planner
---
Available via desktop, Apple iOS and Google Android.
Price: 0.50% Assets Under Management (AUM) Fee
Account Minimum: $0
Wealthsimple is another robo-advisor in what has become an increasingly-popular investing product: automating your investing decisions and investment selections.
However, what makes Wealthsimple different is the unlimited access you can receive from a financial advisor for no additional cost.
The expert financial advice comes with any investment product as part of the Wealthsimple Invest management fee.
Other services provide access to financial advisors, but this often comes with an added cost, be it one-time or a recurring set of fees.
From my experience of screening investing platforms, financial advising is not something many other robo-advisors offer. Investors who want some help from people in the know might consider Wealthsimple.
Wealthsimple also offers the ability to invest according to your values, and that means you can choose specific investment strategies which reflect your priorities.
Some of the current values-based investing options include portfolios for Halal Investing and Socially Responsible Investing.
Wealthsimple is available in Canada, the US and the UK.

Wealthsimple | Robo-Advisor w/Financial Advice
Wealthsimple is a robo-advisor which offers investors included financial advice as part of their Wealthsimple Invest account.
Wealthsimple investors can invest in alignment with their values by choosing from portfolios like Halal Investing and Socially Responsible Investing
8. Vanguard Digital Advisor: Best for Vanguard Funds
---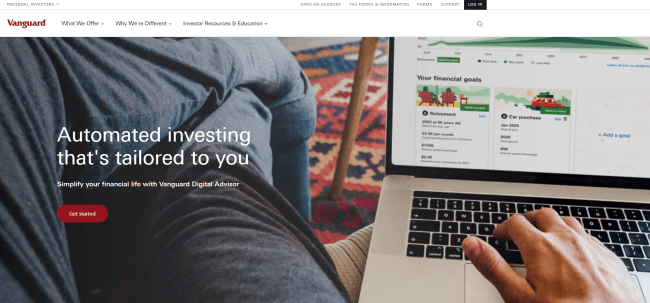 Available via desktop, Apple iOS and Google Android.
Account Minimum: $0
Price: 0.20% Management Fee (AUM)
Much like the Vanguard corporate ethos, the Vanguard Digital Advisor follows closely in those footsteps by offering a no-frills approach to investing.
Though, don't be fooled. With enough cash to invest, you can also upgrade your level of human involvement by gaining access to a certified financial planner and deeper customization through the company's Vanguard Personal Advisor Services.
The Vanguard Personal Advisor Services offering comes with a far higher account minimum ($50,000) and slightly higher management fees (0.30%) than the standard Vanguard Digital Advisor.
Vanguard Digital Advisor can stock your portfolio with dirt-cheap Vanguard ETFs for those interested in the entry-level product featured here.
These tend to charge very competitive expense ratios compared to similar index funds from other providers like Fidelity and Charles Schwab.
The Vanguard Digital Advisor asks standard questions used by most any robo-advisor appearing on this list, questions about income, marital status, spending, investment goals and timelines.
From here, it recommends a portfolio of index funds with low expense ratios and manages your money for competitive advisory fees as compared to other automated investing apps found here.
This robo-advisor doesn't rank higher on the list due to its significant downside: a $3,000 minimum balance requirement.
While trivial to some, it presents a significant barrier to entry for many.
9. Charles Schwab: Best for Cash Account Management
---
Available via desktop, Apple iOS and Google Android.
Account Minimum: $5,000
Price: Free trades
Charles Schwab offers similar products as all the other brokerages listed here, including Schwab's Intelligent Portfolios robo-advisors.
The service comes with a high minimum investment of $5,000, pushing the service to the bottom of our best robo-advisors list. While powerful in practice, the high initial hurdle makes it challenging for beginning investors to start investing.
To begin, the service asks you to complete a short questionnaire as most robo-advisors would.
The questions ask about your financial goals, risk tolerance and investing timeline. Based on your answers, the service builds a diversified portfolio of ETFs chosen by investing experts.
From there, the robo-advisor monitors your portfolio daily and automatically rebalances as needed.
Features to Consider When Selecting the Best Robo-Advisors
---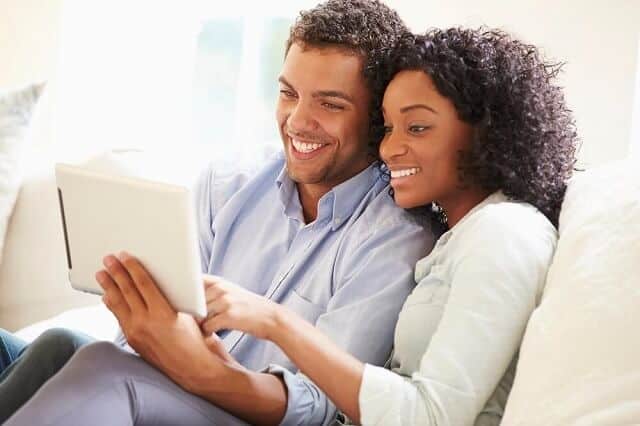 Have a look at the features below to understand what you should consider when looking for a robo-advisor to manage your investments.
Fee Model
Robo-advisor offerings come with two primary methods for assessing management fees and account fees:
Fixed monthly account fees – The service charges a fixed monthly fee regardless of your portfolio size
Fixed fund management fees – Using an assets under management (AUM) approach, you might find small balances pay very little relative to fixed monthly account fees. In contrast, more significant balances pay far more. A standard fee ranges from a 0.20% management fee to a 0.25% management fee or even a 0.35% management fee. The level of service and features offered often drive this management fee.
Portfolio Options
Many start your assessment with a questionnaire to understand essential items like your age, income, investment goals, marital status and more. Based on these answers, you will have several portfolio options recommended to you.
This can include diversified portfolios of index funds with low expense ratios offered through proven portfolio allocations.
It can also offer the ability for you to customize your portfolio and automatically rebalance it as you go.
Access to Human Financial Planners
Some robo-advisor options allow you to pay additional fees or management expenses to access a human financial planner. Likewise, you may need to make a minimum investment on the platform to unlock this access automatically.
Having a human financial advisor can help you with non-investment-related questions a traditional financial advisor might provide.
Ability to Trade Individual Stocks
Not all robo-advisor options allow you the ability to trade individual stocks. Some require you to purchase index funds only.
If individual stock buying serves as a requirement for your investing needs, make sure you choose services like M1 Finance, SoFi, Stash or Charles Schwab.
Account Minimum Requirements
The central sticking point for many people looking to start investing for the first time is the available money they have to put into the market.
In the past, working with a traditional broker might require some hefty minimums, but this hurdle has largely gone the way of the dodo: extinct.
Many of the robo-advisor choices shown on this list require no account minimum to begin investing. For those that do, the threshold amounts to a few thousand dollars.
Tax-Loss Harvesting
Tax-loss harvesting gives you the chance to lower your tax bill but not necessarily your investment returns. This feature, when used in a taxable brokerage account, can lead to significant cost savings.
Banking Services
Some options in the market offer other services to complement your investing needs. This can mean offering you access to a savings account, credit card or debit card, personal loans, student loan refinancing and more.
Retirement Accounts
Many of these services offer multiple types of investment accounts, such as individual and joint taxable brokerage accounts, individual retirement accounts in multiple flavors (e.g., Traditional, Roth, SEP, SIMPLE).
Automatic Rebalancing
These automated investment services should work to keep your portfolio balanced over time, meaning you answer questions at the start and maintain ongoing contributions to build your balance over time.
SoFi automated investing, Betterment, Marcus Invest, and more all offer such features.
Low-Cost Exchange Traded Funds
Make sure the index funds in your portfolio charge the lowest expense ratios possible if they have the same investment objective: to mimic the performance of a stock or bond index. If they all deliver the same intended result, why pay more for an index fund than you must?
Target the lowest expense ratios you can, typically from providers like Vanguard, Schwab, Goldman Sachs and Fidelity.
Smart Beta
Beta implies the performance of the overall stock market. The Beta of an individual stock shows the average correlation in movement in the stock's price relative to the market.
For example, a stock with a beta coefficient of 1.5 moves 1.5x more than the stock market does. If the market tends to move 10%, this stock historically moves 15%. Likewise, if the market declines 10%, this stock tends to decline by 15%.
Smart Beta offers a transparent, rules-based approach to investing in a stock portfolio with passive and active investing strategies.
Services like Marcus Invest offer this investment portfolio in an attempt to outperform the market, delivering you alpha or outperformance or earning the same return for less risk.
In either scenario, your risk-adjusted returns could come out ahead. This feature involves engaging in active investing, but when left to professionals like those at Goldman Sachs with Marcus Invest, it could result in better long-term risk-adjusted returns for your portfolio.
Though, of course, returns aren't guaranteed, and past performance isn't necessarily indicative of future results. This strategy involves added risk but would lead to greater performance.
Robo-Advisor FAQs
How does a Robo-Advisor Work?
---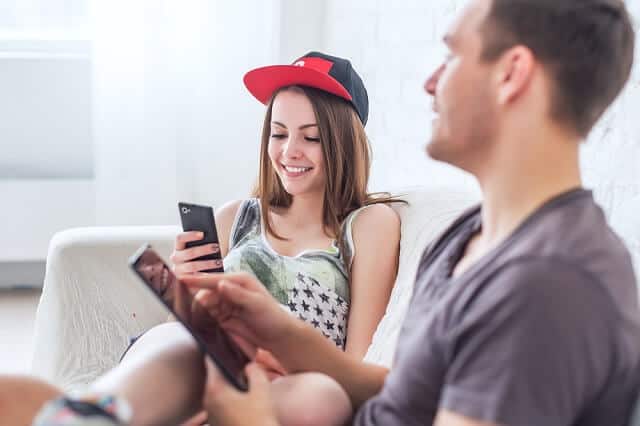 Robo-advisors work by first gathering necessary information from you related to your investment goals, age, risk tolerance and investment suitability, among other valuable questions.
Based on your responses, it will create a portfolio tailored to your answers and provide two significant functions investing by yourself might not: diversification and making programmatic, emotionless decisions.
One of the best ways to outperform the stock market is not making mistakes when everyone else does. Often, emotion drives these mistakes (such as selling when the market bottoms and missing the upside when it resumes its ascent higher).
Robo-advisors don't fall prey to emotions, instead relying on programmatic investment selections and asset allocations.
How are the Best Robo-Advisors Different from Human Financial Advisors?
---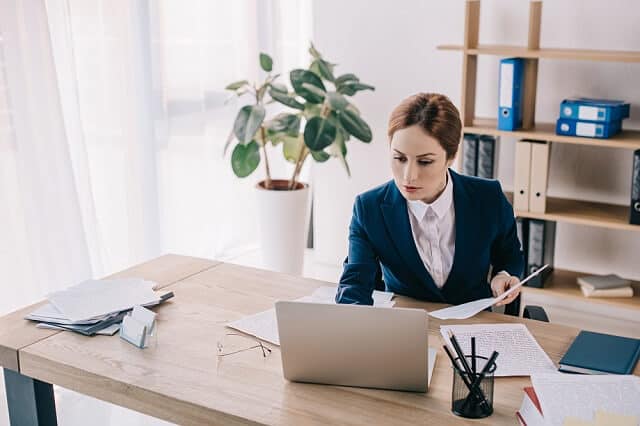 The best robo-advisors can deliver better monitoring and performance than a human advisor, such as a traditional financial advisor.
However, where the value differs between even the best robo-advisors and human financial planners comes with personalized advice extending beyond your investment portfolio.
Human financial planners can assist with portfolio management just like the best robo-advisors, but they cannot offer advice on other financial questions you might have.
This can include insurance, savings rates, educational expense planning, helping with building an emergency fund and much more. Certified financial planners can offer value-added investment advice alongside a personalized retirement plan and financial plan.
Robo-advisors invest your money following your questionnaire responses and some have even sought to offer free financial planning (or for a one-time fee) to match the service offerings of a human financial advisor.
When Would It Make Sense to Consider Consult Human Advisors for Your Financial Planning Needs?
---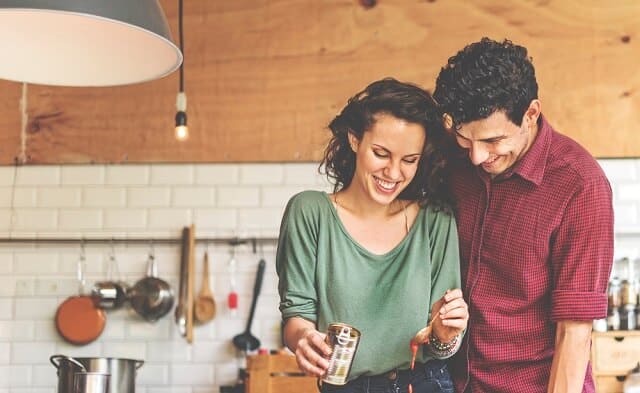 You may want to consider consulting a human advisor when you want more individualized recommendations and hand-holding.
Robo-advisor options use artificial intelligence and rules to place your money in optimized portfolios for the masses. You might want something different than this generic advice.
Further, human advisors might offer you more value-added services beyond investment management like wealth management strategies from other financial products like life insurance, annuities and more.
Consulting with human financial planners might be more advisable if you seek a more comprehensive financial management arrangement.
If you just need investment advice, a robo-advisor can handle most of your needs in all likelihood.
What is Tax-Loss Harvesting?
---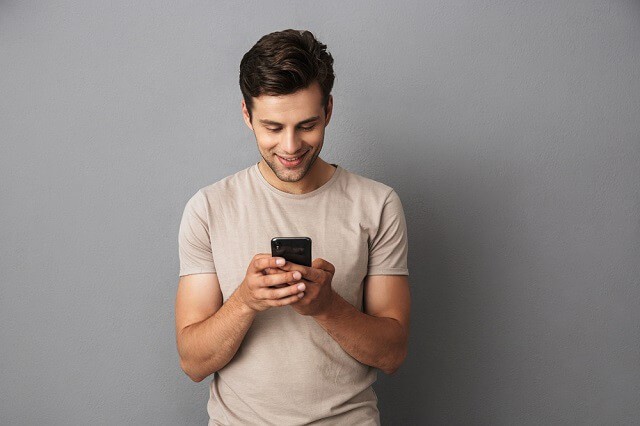 Generally, you engage in tax-loss harvesting when selling some of your investments at a taxable loss and using this loss to offset capital gains earned elsewhere in your investment portfolio.
Because of the wash sale rule from the IRS, you can't sell a stock or other security for a loss and then immediately add it back to your portfolio.
Instead, you can employ a tax-loss harvesting strategy by yourself by selling the security at a loss and waiting at least 30 days to repurchase the same security or a substantially similar one.
You can use the capital loss to offset other capital gains or up to $3,000 of your taxable income in a year. Any unused losses roll forward indefinitely to offset future capital gains or taxable income.
You can have this work by selling your investment for a loss and then having the plan to repurchase it at least 30 days later or outside of the IRS' 30-day wash sale rule window.
Many top robo-advisors offer this feature for you in taxable brokerage accounts, lowering the cost of client assets. This can offset the costs of advisory fees or the robo-advisor's management fee on your robo-advisor account.
Which Robo-Advisor Has the Best Returns?
---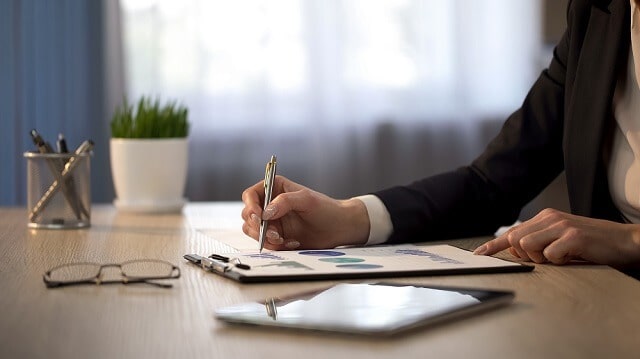 Overall, the investment performance varies based on the responses you make to your initial questionnaire.
The underlying assets largely overlap between robo-advisors, meaning the ability to compare performance doesn't necessarily make sense when stacking robo-advisor against robo-advisor.
Index funds attempt to mimic an underlying index. Therefore, the best robo-advisors offer tax-loss harvesting, low fees, and other features like Smart Beta investing, and Marcus Invest offers such an investing option.
Do Robo-Advisors Beat the Market?
---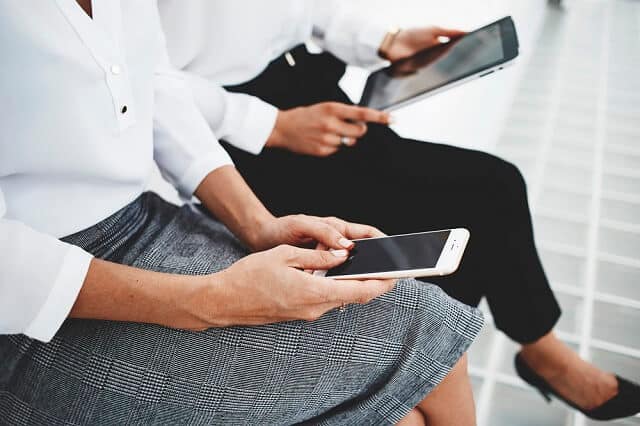 Generally, no. They seek to replicate the market's performance through purchasing low-cost index funds.
Some offer the ability to invest in individual stocks alongside index funds or even use Smart Beta portfolios through a robo-advisor like Marcus Invest. Still, they by and large attempt to meet the market performance.
Is a Robo-Advisor Good for Beginners?
---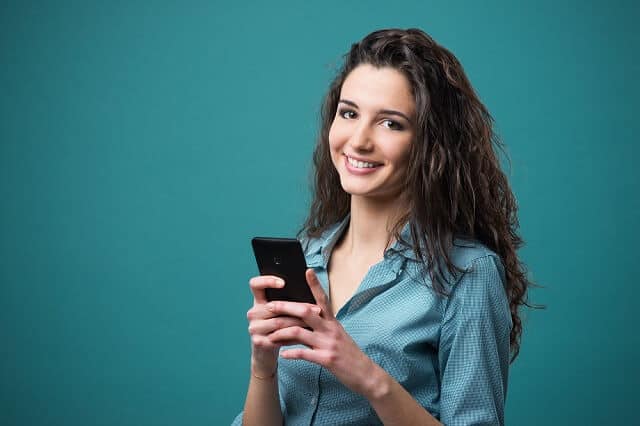 Because robo-advisors represent a way for beginning investors to add money to a diversified portfolio without much knowledge of the stock market or exposure to particular stocks, robo-advisors are suitable for beginners.
Based on your responses to a questionnaire at account opening, your investment funds work for you on these online brokers without knowing how they work or manage your money.
If you answered the questions accurately and honestly, the robo-advisors would purchase a combination of exchange-traded funds or mutual funds in your brokerage account aligned with your risk tolerance.
Why Are Robo-Advisors Bad?
---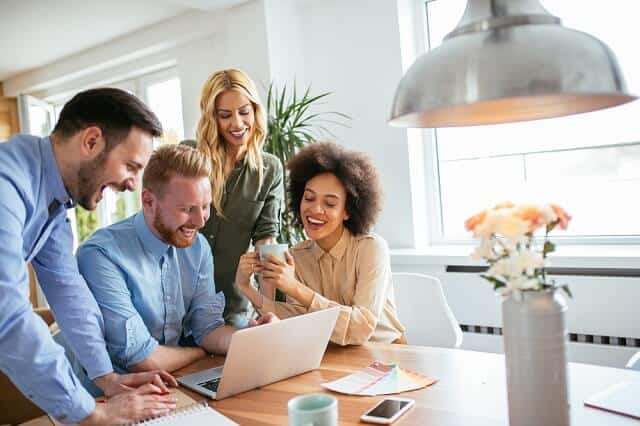 The answer to this depends on your investing style. If you prefer active stock picking to passive index fund investing, they present a challenge.
For the vast majority of investors looking to add recurring contributions to a diversified portfolio over long periods, they make fantastic services.
Are Robo-Advisors a Good Investment?
---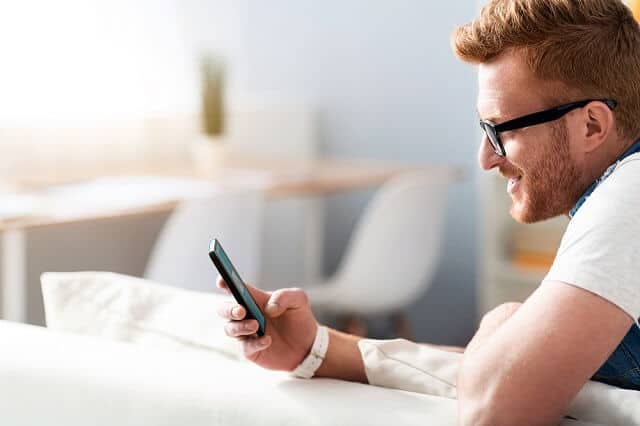 Yes. If you'd like an automated investing service and investment advisor to manage your money on your behalf, robo-advisors present a remarkably good investment.
They manage your money without emotion, and some even offer added financial planning tools to enable your secure financial future.
Many come with valuable educational resources to teach you about investing and personal finance decisions you might encounter.
If you need extra help, some also offer access to human financial advisors for a fee. Combined, this can deliver you financial peace of mind, representing a good investment.
You can even invest following your consumer preferences with some robo-advisors. Some offer access to socially responsible investing, meaning you invest in companies with environmental consciousness, strong corporate governance and socially-progressive positions.
Do Robo-Advisors Make Money?
---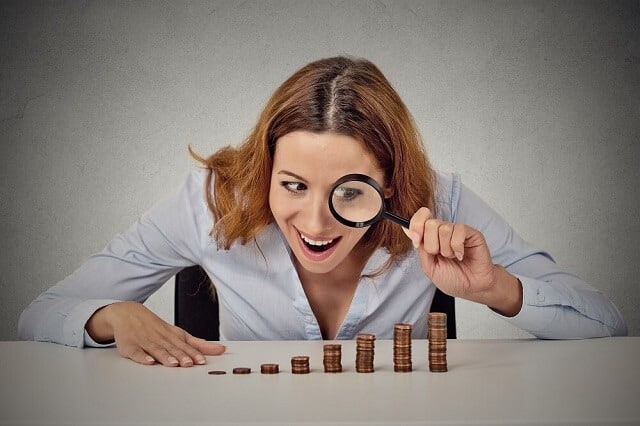 Robo-advisors generally invest your money in index funds matching your risk tolerance and investment goals.
While past performance doesn't guarantee future results, when remaining invested in a widely-diversified portfolio matched to your risk tolerance over long periods, robo-advisors' actions can make money for your bottom line.
These advisors overlook market downturns or market swells to maintain a diversified portfolio and transact without emotions.
Remaining disciplined during critical moments can lead to the best returns when compared to other investors.
How Much Does a Robo-Advisor Cost?
---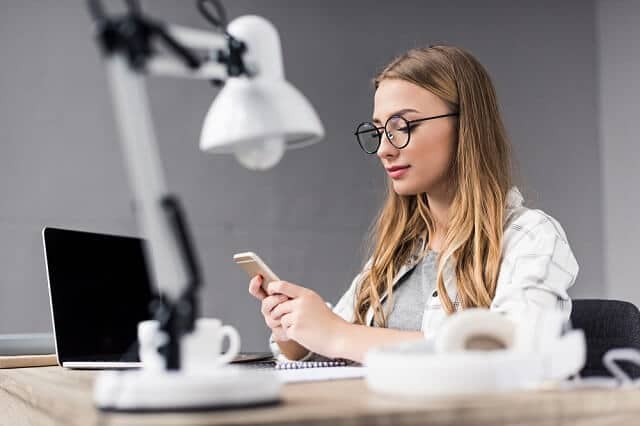 Most robo-advisors use either an assets under management fee model (e.g., 0.25% of AUM) or a fixed monthly fee approach.
Depending on the intended size of your portfolio, one or the other may make sense.
For example, if you plan to build an extensive portfolio quickly, choosing a low-fixed fee might save you more over time.
Likewise, if you won't have serious money to invest for a while, a percentage of assets under management might have you come out ahead.
Some robo-advisors also offer value-added services beyond simply picking suitable investments.
This includes making a holistic financial plan complete with insurance, drafting a will, deciding how best to save for life goals like buying a house, sending your children to college, or even tax planning.
These usually cost extra or amount to a higher fixed or variable (AUM) fee to include them.
While automating your investing approach can pay off handsomely, sometimes speaking directly with human advisors who can guide you toward making better financial decisions is a great idea.
Typically, for traditional personalized investment accounts, robo-advisors compare favorably. Though, as with all things, it depends on your situation and the advisor you think makes the best fit for your needs.
Many financial advisors rely on a simple AUM model, whereby they charge anywhere from 0.50% – 1.5% (or more) to manage your investments, create financial plans, and generally guide you toward making sound financial decisions.
Likewise, many fee-only fiduciary advisors have come to serve customers by charging a fixed fee for performing multiple services or even a la carte pricing from a specific menu of services.
Depending on the services you choose, you will need to compare their cost to those of robo-advisors.